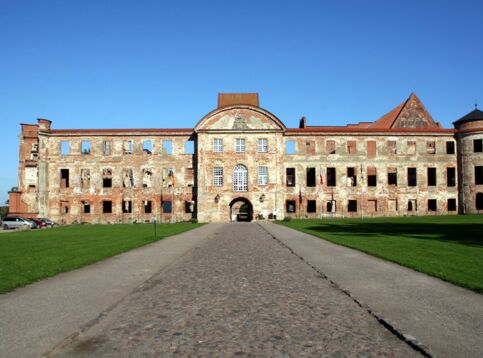 Dargun cloister and castle compound
city of Dargun
Flagship for the city and main attraction for all visitors is the monastery and castle complex with its mighty walls. The dreamlike scenery inspires countless music lovers and turns every trip into an unforgettable adventure.
Built by Cistercian monks, the site has experienced a varied history over the centuries. After the Reformation, the monastery was converted into a castle, which fell victim to a devastating fire at the end of the Second World War.
The entire complex has been secured, renovated, used and made accessible to visitors since 1990. Nowadays, visitors can marvel at the imposing walls of the former monastery during an exciting guided tour of the grounds.
Further information can be found on the Internet portal "Schlösser, Gärten, Herrenhäuser Mecklenburg-Vorpommern".
The monastery and castle complex has become a well-known venue in Mecklenburg-Western Pomerania and offers a variety of events every year, including the "Darguner Musiksommer" (music summer) or concerts of the "Festspiele Mecklenburg-Vorpommern" (festival). During open-air events in the four-wing complex's inner courtyard, the 800-year-old walls are displayed at their best thanks to baroque lighting. The monastery church of "St. Marien" also offers space for about 300 guests. Concerts, as well as church services are also held here.
In addition to the extensive castle park, the grounds also house a wedding pavilion, a café, exhibition rooms, a monastery store and, in the monastery's former guest house, on 760 square metres, the "Uns lütt Museum". This is a lovingly designed local museum to touch and try. In 15 rooms as well as an open-air space, a comprehensive collection shows ordinary and extraordinary items from a wide variety of fields. The museum's many action days always attract large numbers of visitors.
Conversely, anyone wishing to experience Dargun from a dizzying height can climb the observation tower in the monastery and castle complex. Ninety-two steps up a spiral staircase lead to a 25m-high viewing platform, which has a fantastic view over the small town, Klostersee lake, and the monastery and castle grounds.