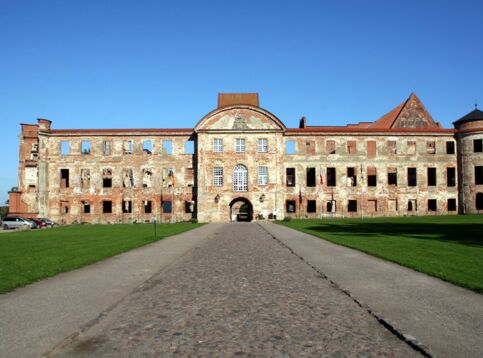 Dargun cloister and castle compound
Rooms
Events and parties
Are you planning your very special event, such as a wedding or company celebration and you are looking for the right atmosphere?
Direct contact
If you are interested, please contact Dargun City Information
039959-22381 or write us your request via email at: stadtinfo[at]dargun.de
At the cloister and castle compound, there are various spaces available. There are also rooms suitable for birthdays, conferences or assemblies. On the property, there is also a modern sanitation building which can be rented additionally, if needed.
The courtyard of the cloister and castle compound is approx. 1300 m², and there are also several areas available in the arcade.
Vorderfront

Innenhof Nordflügel

Innenhof

Beleuchtungsbeispiel Arkaden

Innenhof mit Blick auf Arkaden
The event room in the wheat store offers space for 100 to max. 120 people at tables, plus a dance area. The room can be heated and has a lift.
For very special occasions, such as champaign receptions for silver or golden anniversaries, the Tea Pavilion in the Schlosspark can be rented upon request.
To submit a request, please contact Dargun City Information or the Registry Officer for the city of Dargun.
Kornspeicher

Veranstaltungsraum Innen

Teepavillon im Schlosspark