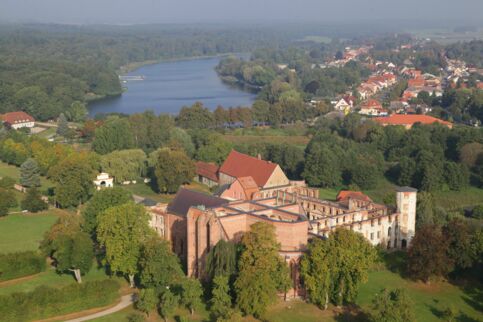 Kultur & Tourismus in der Stadt Dargun
Dargun offers nature-lovers, culture-seekers and families a varied stay with great experiences in the heart of Mecklenburg Western Pomerania. Bicycle tours, extended hikes or a variety of water sport offers await you.
Take advantage of the diverse offerings in the cloister and castle compound or relax at the cloister lake with swimming, boating and fishing. With the whole family, discover the new forest experience trail, as well as the historical experience trail "Slawischen Burgwallanlage" [Slavic Castle Wall]. Find the right path through our labyrinth or take a ride on the Nature Park Trolley through the magnificent Mecklenburgische Schweiz.
Well-known and beloved events include the Darguner Carnival, the village festivals of the individual communities, the sporting events of the sports association, SV Traktor Dargun, as well as the action days at the Heimatmuseum. The active associations, such as the Interest Group for Historical Agricultural Technology, the shooting associations, the business association, the fire departments … all make for a lively cultural life.
The pride of the city is the cloister and castle compound, which has grown to become a well-known event location in Mecklenburg Western Pomerania and has offered a wide range of events for many years, including the Darguner Musiksommer or concerts of the Festspiele Mecklenburg-Vorpommern.
The cultural life of the city is, however, not only defined by the events at the cloister and castle compound.
The roughly 25 associations and organisations also provide for a diverse program for every taste and age.